Apartment Dining Room Ideas In Carmel

Your apartment dining room is more than just a basic location to eat before hurrying off to your hectic life. It's where you gather with people you care about, enjoying meaningful conversation or a joyful night of games. Chances are you'll make good use of it, so it's important to decorate the space in a manner you and your visitors will appreciate.
If you're getting ready to relocate into a new community, consider these apartment dining room ideas in Carmel to craft a beautiful, practical space.
Incorporate Some Pizzazz Into Your Space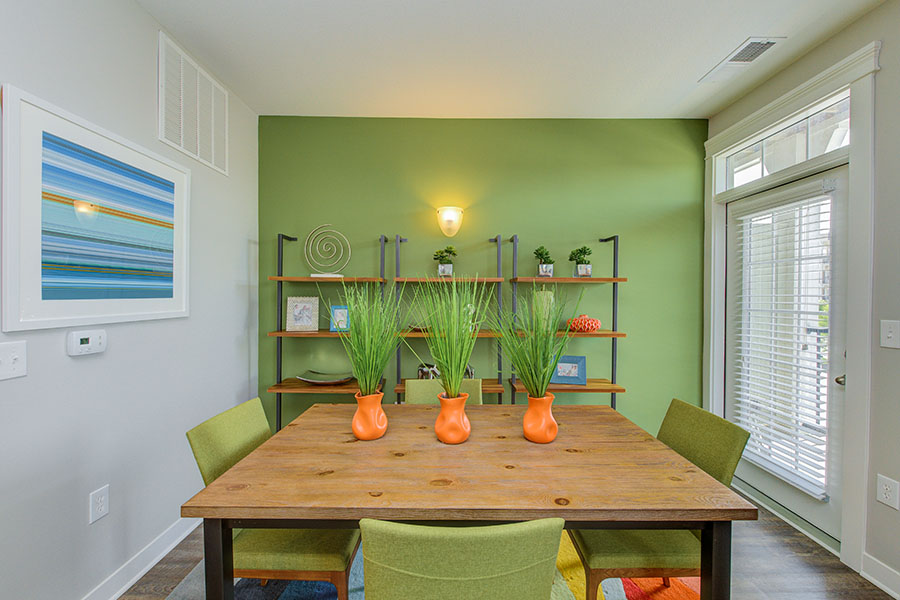 Your Carmel apartment dining room doesn't have to be uninteresting. There's no rule that mandates your apartment dining room in Carmel must be unexciting. As a matter of fact, give it some flair and let it reflect your own taste. You can accomplish this by creating your own centerpiece or adding unique artwork. If your style is a bit more subtle, you can always go with appealing plates, placemats, and vases. Seats are another opportunity to show off your design expertise by using cushions in your preferred patterns and colors.
Here are a few other recommendations on styling your dining room:
Make certain that it integrates well with other rooms, such as your kitchen or adjoining living space. This is particularly significant for open-concept floor plans. If your kitchen includes darker or lighter cabinetry, it's a smart decision to emulate that in the tone of your dining table and other pieces.
If you have an open-concept apartment layout, you can better define the space by incorporating an area rug. This will add a distinctive style element while muffling noise from sliding chairs.
Use Appropriate Furniture In Your Carmel Apartment Dining Room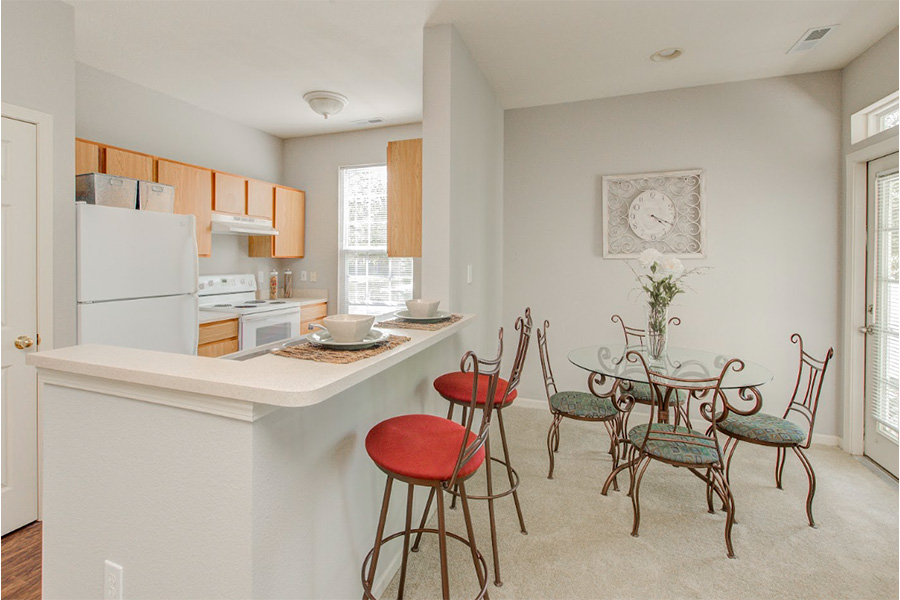 No matter if your apartment dining room is large or compact, it's crucial to use furnishings that are suitable for the size of the space. Armchairs and bulky cabinets will make the space seem cramped. Alternatively, furnishings like rounded or oval tables are space smart. They're easier to walk around, and you can mix in a spare chair when required. If you have a rectangular table, bench seats you can place next to a wall is a sensible choice. You might even consider an L-shaped bench when floor area is truly at a premium.
You can also utilize these other tips for optimizing your space:
Multi-functional pieces like drop-leaf or extendable tables are an excellent idea. You may also add a sideboard or shelving unit for extra storage.
A large mirror will make the room look bigger.
In addition, don't neglect comfort when choosing your seating. When you're a few hours into that spirited board game, you'll be thankful your chairs have cushions.
Design Your New Apartment Dining Room At One One Six Apartments
Put these new apartment dining room ideas to useIncorporate your new apartment dining room ideasNow that you have some good apartment dining room ideas, put them in action at One One Six Apartments! Our luxury apartments in Carmel can be found in a wide range of floor plans to match your unique needs and style. You'll also find a marvelous array of amenities to enhance your lifestyle. Schedule a tour to see what we have available, or simply contact us at 317-350-1941.